Zeta Wing was originally the 8th Tactical Fighter Wing in the 1st Air Division. It was eventually disbanded and the name was left to legend for centuries. In 2354, it was remade under the command of Jace Ferran. However, it became more of a special operations/shock unit instead of a fighter wing.
Generation One
Edit
Generation Two
Edit
Generation Three
Edit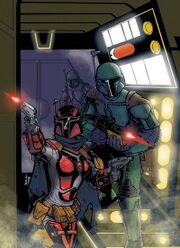 Zeta Wing was infamous for it's pranks under Sigurdson's leadership. When reformed under Ferran, this trait was not duplicated.
The "Shit List"
Edit
The "Shit List" was developed by Zack and Sen, and holds each person in the universe a member of Zeta wants dead. Later on, Jace Ferran implemented a more casual list for his squad.
Ad blocker interference detected!
Wikia is a free-to-use site that makes money from advertising. We have a modified experience for viewers using ad blockers

Wikia is not accessible if you've made further modifications. Remove the custom ad blocker rule(s) and the page will load as expected.