Tork

Tork, the Fungal King
Vital statistics
Title
The Fungal King
Callsign
Gender
male
Race
Unknown
Physical Age
Unknown
Alignment
Neutral Good
Faction
Crogenitor Insurgency, Hellcat Squadran
Tools
Nerve-Spore Container, Nervo-Spore Container, Pathogenic Colonizer, Pandemic Incubator
Abilities
Bio Genesis, 'Delta' Powers
Vehicles
Status
Alive

"DARKSPORE! Face the Wrath of the FUNGAL KING!!!!!" - Tork
A former scoundrel and thief on Verdanth, Tork changed his ways prior to The Darkspore's invasion. He came to the aid of his Coalition-allied comrades during the Battle of Scaldron.
Personality
Edit
He prefers to not associate except with others from Verdanth like Savage and Arborus. He's kind to those who are weaker and/or younger than him, and respectful to those stronger/older than him.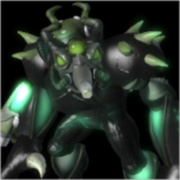 Ad blocker interference detected!
Wikia is a free-to-use site that makes money from advertising. We have a modified experience for viewers using ad blockers

Wikia is not accessible if you've made further modifications. Remove the custom ad blocker rule(s) and the page will load as expected.