Niflheim

'
Vital statistics
Star, Position
Ronal
Moon(s)
7
Satellite(s)
Thousands
Gravity
1.5 G
Atmosphere
N/A
Population
4 Billion
Species
Reapers
Technology Tier
Tier 1
Niflheim is a world inhabited by the Reapers, ancient sentient starships from the universe of the so-called "Citadel Races", races that appear to have come from a parallel universe of the Intergalactic Republic's Citadel Alliance's home universe.
These Reapers, unlike those from the records of the Citadel Alliance, are non-hostile, if a little reclusive. However, they heavily fortified the world, and will not hesitate to threaten potential trespassers with destruction if they don't alter course.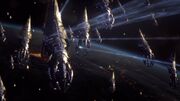 Ad blocker interference detected!
Wikia is a free-to-use site that makes money from advertising. We have a modified experience for viewers using ad blockers

Wikia is not accessible if you've made further modifications. Remove the custom ad blocker rule(s) and the page will load as expected.