Musspellheim-class Atmospheric Assault Ship

The HCS Musspellheim, a Musspellheim Class Prototype
Vehicle statistics
Starship Function
Atmospheric Attack Ship
Length
Width
Height
Crew Capacity
243
Power Systems
Fusion Power Drive
Engines
Repulsors, Covenant Slipspace Drive
Weapons
Pulse Lasers, Suva AP-HE Bombs
Class Status
Active

The Musspellheim is an advanced Prototype Starship by Hellcat Squadran that is capable of unhindered atmospheric flight. GDI keeps requesting a small force of them, however, IceBite adamantly stands to his terms on the deal: "Return those Mammoths you took back and we have a deal." The 2 groups are still feuding over the deal. What irks GDI even more is that Hellcat Squadran gave one to the UNSC, Covenant Separatists, and even their Flood allies.
Notable Ships
Edit
HCS Musspellheim
HCS Quelron
HCS Archeopteryx
HCS Quetzalcoatl
UNSC Niflheim
CSS Low Strider
Infectious
HMS Tiamat
HMS Elder Wyrm
HMS Yiazmat (Heavily Modified)
HMS Fafnir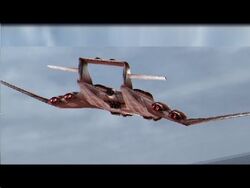 Ad blocker interference detected!
Wikia is a free-to-use site that makes money from advertising. We have a modified experience for viewers using ad blockers

Wikia is not accessible if you've made further modifications. Remove the custom ad blocker rule(s) and the page will load as expected.