Kaven Island

The Gate to the Kaven Island Base
[[|px]]
'
Vital statistics
Type
Naval Base
Location
Pacific Ocean
Inhabitants
Hellcat Squadran
Until the middle of the Treklan War, Kaven Island was only a minor base. However, when the war switched to Navy battles, Kaven Island became an important Naval Shipyard.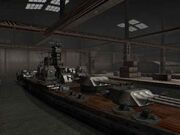 YES, I KNOW THE MAIN PICTURE IN THE INFOBOX IS A PICTURE OF THE HALO 3 MAP HIGH GROUNDS!!!!!
Ad blocker interference detected!
Wikia is a free-to-use site that makes money from advertising. We have a modified experience for viewers using ad blockers

Wikia is not accessible if you've made further modifications. Remove the custom ad blocker rule(s) and the page will load as expected.