Treklan War
Edit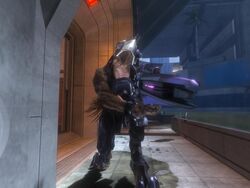 Shadow War
Edit
Resurrectal War
Edit
Consortium War
Edit
Visarius Incident
Edit
Even a century after joining, Jackal was still an active member of Hellcat Squadran. He and his long-time companion, Fallaf, were the heads of a series of Cloak and Dagger Special Ops Team Missions that resulted in the discovery of the location of the Volfgang.
Personality
Edit
Jackal is cold and vicious in combat, but loud and boistrous otherwise, almost like a cross between Lightning and Gilgamesh in a Kig-Yar's body.
Ad blocker interference detected!
Wikia is a free-to-use site that makes money from advertising. We have a modified experience for viewers using ad blockers

Wikia is not accessible if you've made further modifications. Remove the custom ad blocker rule(s) and the page will load as expected.