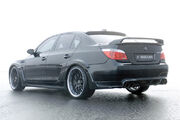 &nbsp
The gravity Front is a Elemental supremecy group. They beleive as Gravity Elementals they are the rightful rulers of man. They are lead by Adian Cross who's wealth has allowed them nearly unlimited funds for weapons bases and vehicles. Their primary choice in transport is a BMW E60 M5 the trunk space allows for a large sum weapons and ammuntion to be carried and the M5's V10 engine with 500hp allows the vehicle out pace and total many personal vehicles of hellcat squadron operatives as well as terrorize local EMS units.
Ad blocker interference detected!
Wikia is a free-to-use site that makes money from advertising. We have a modified experience for viewers using ad blockers

Wikia is not accessible if you've made further modifications. Remove the custom ad blocker rule(s) and the page will load as expected.