Frost

Frost after Evolving
Vital statistics
Title
Callsign
Gender
N/A
Race
Frost Atronach
Physical Age
N/A
Alignment
Neutral Good
Faction
Holly
Tools
Club-Like Arm, Spear-Like Arm
Abilities
Vehicles
Status
Alive

Frost was accidently created by Holly with the Force and, therefore follows either her commands or the commands of those Holly tells it to follow.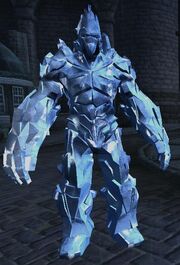 Ad blocker interference detected!
Wikia is a free-to-use site that makes money from advertising. We have a modified experience for viewers using ad blockers

Wikia is not accessible if you've made further modifications. Remove the custom ad blocker rule(s) and the page will load as expected.