Julian

'
Vital statistics
Title
Maximus Team Medic
Callsign
Maximus 5
Gender
female
Race
Human, Clone
Physical Age
Actual: 5

Physical: 22

Alignment
Neutral Good
Faction
Hellcat Squadran
Tools
Abilities
Vehicles
Status
Alive
Julian is
Maximus team
's medic. Julian is described as the one who loves Ryan the most. Like the others, she does anything he says, but seeks his approval to the extent where she has nealy been injured to prove herself to him.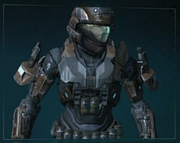 Ad blocker interference detected!
Wikia is a free-to-use site that makes money from advertising. We have a modified experience for viewers using ad blockers

Wikia is not accessible if you've made further modifications. Remove the custom ad blocker rule(s) and the page will load as expected.